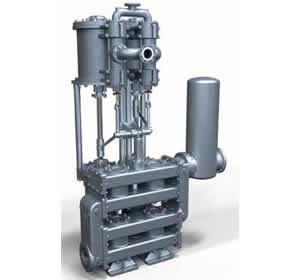 Dawson Downie Lamont, one of the world's leading players in the manufacture and supply of specialised direct acting steam driven reciprocating pumps, have launched a new vertical steam driven pump which would be used during the unloading operations of VLCC tankers and FPSO vessels.
The Cargo Stripping Pumps are designed to pump the remaining crude oil and sea water from the cargo hold and pipe work of these large tankers.
The new pump has been designed to allow a structured modular build, with smaller pump casing assemblies which makes for easier casting and manufacture.
This ensures that the new pump is competitive both in initial production costs as well as ongoing operational costs as ease of future maintenance has also been considered during the design stage.
The Cargo Stripping Pumps will be available in three sizes with a range of capacities from 100m3/hr to 400m3/hr with discharge pressures up to 15 bar.
DDL's General Manager, Iain Bickett, explained, "Our steam driven positive displacement type reciprocating pumps offer significant benefits over other pump types such as centrifugal and screw pumps for this application, particularly when it comes to handling liquids with varying viscosities which may contains solids and under difficult suction conditions."
He continued, "We are also designing a speed control system for the pumps which will allow the pump to be controlled remotely in the cargo control room."
The project has been supported with Research and Development funding from Scottish Enterprise and DDL has already seen significant demand for the pumps following the successful development and testing of the prototype model last year.
To find out more about the new vertical steam driven pump and the full range of reciprocating pumps visit www.ddl-ltd.com.