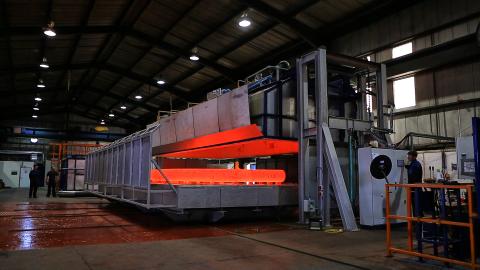 Proclad Heat Treatment have invested over £300,000 to manufacture and install a new top hat furnace with bogey hearth which will provide a working capacity of 9.5m long x 3.5m wide and 1.2m high.
The natural gas furnace can deliver a maximum running temperature of 1200 Degrees Celsius and has been designed to meet the market leading standards established by Proclad Heat Treatment. 
It can accommodate a 20 tonne workload, features ten 5 Therm burners as well as a 24-point digital recording system and is operated via Siemens Symantec Touchscreen Control Programmer for absolute precision and control.
The furnace will be used to provide normalizing and austenitising of air hardenable steel as well as tempering and post weld stress relieving.
Proclad's continued investment in its Heat Treatment capabilities means that it is now able to offer a comprehensive range of heat treatment solutions to its growing portfolio of clients as well as the rest of the Proclad Group.
Heat Treatment Solutions