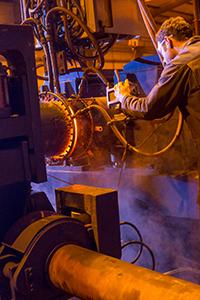 Proclad Induction Bending's ability to offer Automatic Temperature Controlled (ATC) Induction Bending has been instrumental in securing a six-figure contract to manufacture and supply bends for upgrades to one of the UK's largest biomass/coal fired power stations.
The project will see Proclad take responsibility for manufacturing the Hot Re-Heat bends with a 546.6mm Outside Diameter and 32mm wall thickness from 14MoV6-3.
The contract will be facilitated by Proclad's UK facility in Scotland where it can use the latest digital control and recording software to deliver world leading quality and consistency demanded by today's market.
Proclad Induction Bending's Intellibend 2.0 system continually controls, measures and records the critical manufacturing variables such as Feed, Speed, Temperature Air Pressure, Water Pressure and Power being used, to ensure the specific parameters are being achieved on every bend they produce.
The Intellibend 2.0 system measures and presents meticulous data which is presented to the operator on a computerised dashboard throughout the process and can be supplied to the client for quality assurance purposes.
Proclad Induction Bending's General Manager, Archie Skinner, explained, "We have an enviable portfolio of clients which features some of the largest power stations in Europe thanks to our unique ability to deliver quality products within tight deadlines at highly competitive rates."
He continued, "By being part of the Proclad Group with our inhouse specialist Heat Treat facility, we can provide customers with guaranteed lead times, economies of scale and now, with the Intellibend 2.0 system, we can provide complete manufacturing data to demonstrate that every product which goes through our Induction Bending process consistently meets the rigorous standards they require."
Click here for more information on Proclad's Induction Bending solutions or to contact their technical sales team, call +44 1592 631112
Automatic Temperature Controlled (ATC) Induction Bending
biomass
coal fired power stations
Induction Pipe Bending