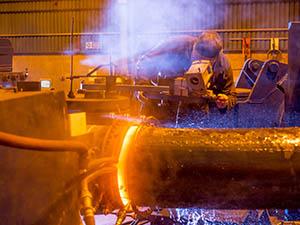 Proclad Induction Bending has secured a major contract for its induction bending solutions in the MENA Region where its Total Value Engineering has once again demonstrated major efficiencies and cost savings.
The contract will see Proclad manufacture 10" bends with various angles from 44 degrees to 90 degrees from API 5L X42 material, all with a wall thickness of 64mm.
Working closely with the client to optimise the process, Proclad will use free issue material supplied by the client and will carry out the full induction bending process which includes undertaking the heat treatment of the components using Proclad's in-house heat treatment services. 
Critical to the project is ensuring the Induction Bends are delivered to the highest of quality standards. This is delivered thanks to Proclad's Intellibend solution which monitors, measures and reports upon key variables including feed, speed, water pressure and power used. 
Proclad Induction Bending's General Manager, Archie Skinner, explained, "This is a fantastic example of our ability to deliver major induction bending contracts anywhere in the world from our facility in the UK."
He continued, "Not only do we offer unrivalled bending capacity from 2" to 42" pipes with pipe thicknesses ranging from 0.25" (6mm) to 4" (100mm), we can also deliver significant benefits by carrying out a range of complementary in-house solutions from heat treatment to shot blasting and machining solutions."
Click here to find out more about our Induction Bending Solutions or discover how our total value engineering solution can enable you to enjoy significant efficiencies and cost savings.
Induction Pipe Bending