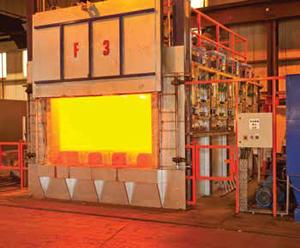 Proclad Heat Treatment has unveiled an innovative new polymer quenching system which is primarily designed to treat AISIS 8630M non solid components and deliver the exact mechanical properties required.
The launch comes after 2 years of testing of the technique which uses an aquaeose polymer to cool the alloy grade very quickly but whilst maintaining the required viscocity operating window level.
The results have been astounding with a virtually 0% failure rate and proving to be clean after ultra sonic testing. 
Proclad Heat Treatment's Operations Manager, Harry Lowdon, explained "Whilst water can be used to quench solid AISI 8630M, the industry norm for water quenching tubular 8630 components is to expect as much as 25% UT failure rate."
Previous attempts to use polymer quenching enabled the material to be UT clean but proved to be extremely brittle and therefore failed impact testing.
Proclad's Polymer Quenching technique offers a 5% water to polymer ductility forfeit which has enabled the company to achieve the required properties with a failure rate of virtually 0%.
He continued, "This groundbreaking achievement demonstrates the expertise and experience we are now able to offer at Proclad Heat Treatment and will enable us to make major inroads to new markets."
Such has been the success of the approach that Proclad are now attracting business from as far afield as the Midlands and Yorkshire to take advantage of the benefits they can offer.
This innovative approach and commitment to customer service has enabled Proclad Heat Treatment to achieve continued growth and now operates 9 furnaces with inhouse shotblasting from its Fife based facility. 
Click here to find out more about our Heat Treatment solutions
Heat Treatment Solutions